//= Html::a('Go To Landing Page', ['//landing']) ?>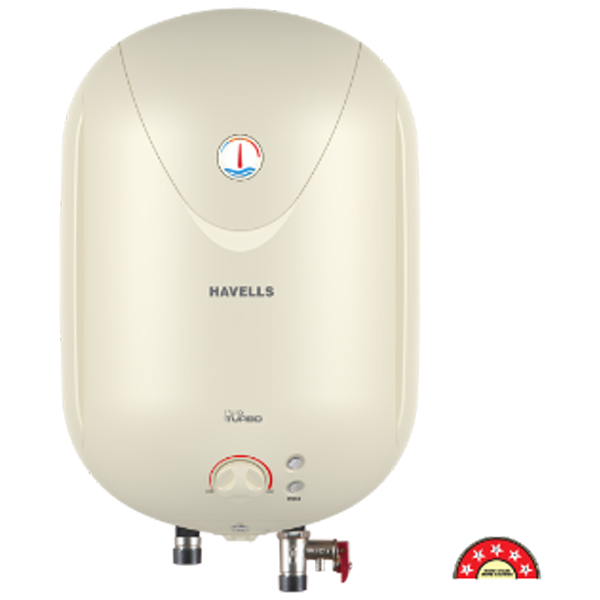 Havells - GHWAPTTIV015, 15 Ltr Lvory Puro Turbo Storage Water Heater, 1 Year Warranty
14.21 % OFF
11,850.00
10,166.00
This item is currently out of stock
Quantity :
Made of Ultra thick super cold rolled steel plates 2mm thick B. Provides more corrosion resistance and anti-rust properly resulting in longer life compared to standard inner tank designs. C. A die-hard life span for inner tank and more than 25% strength than S.S. tank, ensured by multiple on line testing including 1. Uric Acid Test 2. Anti Alkaline Test 3. Fatigue Test 4. Environment Synchronization Test
Incololy 800 Heating element glass coated offers superior heating performance with its excellent resistance to both oxidation & carbonization at high temp. setting. Also resists errosion against most extreme and hard water conditions thus extending life span of heating elements with minimum energy loss.
Havells water heaters is equipped with an earth leakage circuit breaker (ELCB) which will cut off the power immediately in case of any current leakage.The main purpose of earth leakage circuit breaker is to prevent injury to humans due to electric shocks.
Brand
Havells
Color
Lvory
Weight
8.7 kg
Width
320mm
Warranty
1 Years
RATED POWER
2000
1000
3000
Ideal For
Bathroom , High rise buildings
Height
510mm
Rated Capacity
15 Lit