//= Html::a('Go To Landing Page', ['//landing']) ?>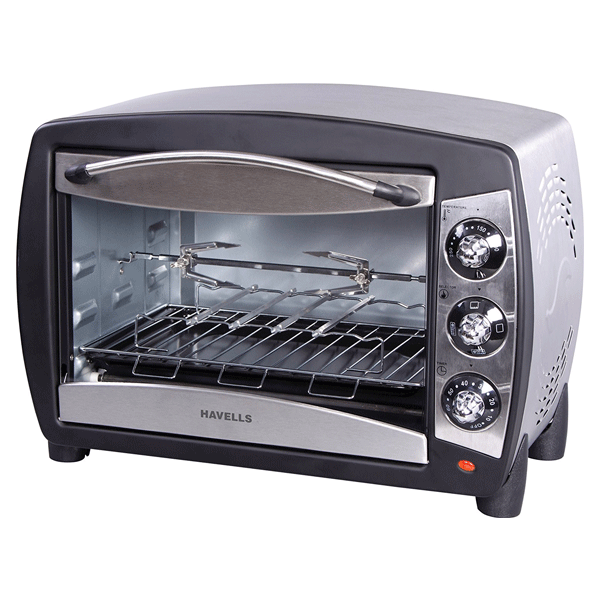 Havells 28L RSS 1500-Watt Stainless Steel Oven Toaster Grill
3.56 % OFF
9,120.00
8,795.00
This item is currently out of stock
Quantity :
Rotisserie and 0-60 minutes timer
Functions include grill and bake toast
Food grade non-stick coated bake tray for hygenic cooking
Warranty: 1 years on product
Power: 1500 watts; Operating voltage: 220-240 volts
Includes: Oven toaster grill, bake tray, Instructional manual and Warranty card
The Havells 28 RSS 1500-Watt Stainless Steel Oven Toaster Grill as the name suggests helps you grill, bake and toast. This oven comes with a bake tray, rotisserie and 0-60 minute timer. If you are a cleanliness addict then the food grade non-stick coated bake tray will surely appeal to you. The oven toaster runs on 1500 watts and has an operating voltage of 220 to 240 volts. Havells is a Fast Moving Electrical Goods company that has made its mark in the global market. Havells products include Industrial & domestic circuit protection devices, cables & wires, motors, pumps, fans, modular switches, home appliances, electric water heaters, power capacitors, CFL lamps, luminaires for domestic, commercial and industrial applications. With its strong distributor network, Havell's strives to set benchmarks in prompt delivery and service to customers. Havell's has made its mark both in the consumer and the industrial market. You can order online this 28 R SS 1500-Watt Stainless Steel Oven Toaster Grill and get it delivered right at your doorstep in just a couple of day.
| | |
| --- | --- |
| Brand | Havells |
| Color | Grey |
| Type | Electric Oven |
| Warranty | 1 Year |
| Power Consumption | 1500w |
| Material | Stainless Steel |
| Ltr | 28 Ltr |